Capitol Hill Florist, Gifts & Flower Delivery: Embracing a Time-Honored Tradition of Extraordinary Floral Services in Oklahoma City
Oklahoma City, OK - Capitol Hill Florist, Gifts & Flower Delivery proudly upholds a revered legacy of exceptional floral services in the vibrant city of Oklahoma City. Since its inception in 1932, this distinguished establishment has remained a cornerstone of the community, providing unparalleled floral arrangements and gifts for generations. Under the guidance of Kent Whitnah and co-owner Patty Wiggins, the third generation of ownership ensures the continuation of unwavering freshness and remarkable quality that customers have come to trust and rely on.
With the convenience of two well-situated shops in Oklahoma City, Capitol Hill Florist is deeply committed to serving customers with utmost care and professionalism. Prompt service is a top priority at both locations, with a steadfast dedication to same-day delivery, allowing customers to indulge in the splendor of fresh blooms without delay. Recognizing the pivotal role of freshness, all deliveries are meticulously preserved in a state-of-the-art 7,000 cubic foot walk-in cooler, meticulously maintaining the longevity and unspoiled beauty of the flowers.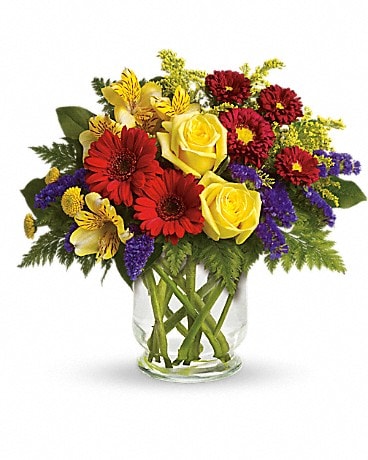 Capitol Hill Florist, Gifts & Flower Delivery has earned an esteemed reputation for delivering exceptional floral arrangements and gifts. The shop wholeheartedly understands the significance of reliable service and consistently goes the extra mile to ensure a delightful experience for each customer. With a team of seasoned florists who embody unwavering dedication to their craft, Capitol Hill Florist, Gifts & Flower Delivery meticulously design each floral gift with precision and care, ensuring that every arrangement flawlessly captures the essence of the customer's vision.
Customers can anticipate a wide array of specialized services from Capitol Hill Florist, Gifts & Flower Delivery to fulfill their unique floral needs. The shop proudly showcases an extensive inventory of fresh flowers, including a diverse selection of green and blooming plants, elegant dish gardens, both contemporary and traditional hand-designed bouquets, exquisite wedding florals, and thoughtful funeral arrangements. Furthermore, they offer an impressive variety of gift lines, gourmet baskets, and fruit baskets, complementing any floral ensemble with perfection.
Driven by an unwavering commitment to customer satisfaction, Capitol Hill Florist, Gifts & Flower Delivery cordially invites the community to experience their extraordinary floral services. Whether commemorating joyous celebrations such as birthdays and anniversaries, curating unforgettable weddings, or honoring poignant moments, their expert florists work in close collaboration with customers to craft arrangements that transcend expectations. Each creation is meticulously fashioned with precision, care, and an artistic touch, ensuring it conveys sentiments of grace and beauty with utmost elegance.
Customers are encouraged to explore the remarkable selection of flowers and gifts or conveniently place an order by visiting Capitol Hill Florist, Gifts & Flower Delivery's user-friendly website at www.capitolhillflorist.com. Alternatively, they can contact the shop directly at (405) 634-3368 to engage with a friendly and knowledgeable representative who will provide expert guidance and assistance in discovering the perfect floral arrangement or gift for any occasion.
About Capitol Hill Florist, Gifts & Flower Delivery:
https://youtube.com/shorts/RkoRSJM5xL4
Founded in 1932, Capitol Hill Florist, Gifts & Flower Delivery cherishes a proud family floral legacy in Oklahoma City. With an unwavering commitment to delivering the finest floral arrangements and gifts, accompanied by warm and prompt service, Capitol Hill Florist, Gifts & Flower Delivery remains a trusted name within the community. Through the convenience of two strategically located shops and a steadfast commitment to same-day delivery, they continually strive to exceed expectations by offering exceptional freshness, unparalleled quality, and meticulous attention to detail, proudly upholding a tradition of excellence that has defined them for decades.
###
For more information about Capitol Hill Florist, Gifts and Flower Delivery, contact the company here:

Capitol Hill Florist, Gifts and Flower Delivery
patty@capitolhillflorist.com
(405) 634-3368
https://www.capitolhillflorist.com/
Capitol Hill Florist, Gifts and Flower Delivery
5809 S Western Ave
Oklahoma City, OK 73109