Locker's Florist & Flower Delivery: Elevating Floral Artistry with Uncompromising Quality and Experience
West Allis, WI - Locker's Florist & Flower Delivery is dedicated to transforming their clients' floral visions into timeless works of art, reflecting both enduring elegance and the latest trends. With a profound passion for hand-selecting the most exquisite blooms from around the globe and an unwavering commitment to prompt and personalized service, the professionals at Locker's Florist & Flower Delivery excel at crafting breathtaking floral arrangements. Their true joy lies in witnessing the magic that unfolds when these creations are placed in the hands of their recipients. At Locker's Florist & Flower Delivery, they believe that the details that matter most to their clients are what truly matter.
Since its establishment in 1911, Locker's Florist & Flower Delivery has upheld a tradition of exceptional design and unparalleled customer service. For over a century, they have been a revered name in the West Allis community, helping clients celebrate cherished milestones, both grand and intimate. Under the expert ownership of Kimberlee Grob, a master designer with a wealth of experience gained from renowned family-owned shops across Wisconsin, this locally-owned establishment remains steadfast in its commitment to delivering extraordinary floral experiences.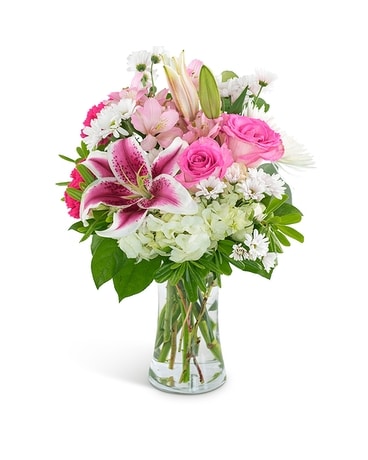 Kimberlee Grob, the owner and a master designer at Locker's Florist & Flower Delivery, infuses her artistic expertise and passion into every floral creation. Drawing inspiration from her extensive background in historic family-owned shops, Kimberlee's distinctive perspective and creative vision add an extra touch of elegance to each client's floral journey. Her unwavering dedication to the artistry of floral design is evident in the breathtaking arrangements she and her team meticulously craft.
Locker's Florist & Flower Delivery firmly believes that fresh flower design is an accessible and sustainable art form capable of creating cherished memories. As specialists in custom floral design, they take immense pride in attentively listening to their clients, ensuring that every arrangement reflects their unique style or the heartfelt sentiment they wish to convey to the recipient. Their goal is to surpass their clients' expectations, delivering floral creations that evoke emotions and leave an indelible impression.
Embark on a transformative journey with Locker's Florist & Flower Delivery, where the power of flowers transcends boundaries and brings beauty into the world, one bloom at a time. Whether clients are commemorating a momentous occasion, expressing love and gratitude, or seeking to add a touch of beauty to their everyday lives, the dedicated team at Locker's Florist & Flower Delivery is ready to assist. With an extensive inventory of fresh flowers, plants, and a wide array of arrangements, they offer a diverse range of options to suit any occasion.
At Locker's Florist & Flower Delivery, the journey begins with a consultation that goes beyond mere flower selection. The experienced team takes the time to understand their clients' vision, personal preferences, and desired emotional impact. They carefully curate each floral masterpiece, ensuring that every petal and stem tells a story and conveys the intended sentiment. From exquisite bridal bouquets that capture the essence of love to vibrant centerpieces that enliven special events, Locker's Florist & Flower Delivery is dedicated to making each occasion unforgettable.
The magic of Locker's Florist & Flower Delivery extends beyond their exceptional floral arrangements. As a family-owned business deeply rooted in the community, they understand the significance of every floral gesture. Whether it's a heartfelt congratulations, an expression of sympathy, or a simple gesture of appreciation, Locker's Florist & Flower Delivery delivers not only flowers but also moments of connection and emotion. They believe that every floral creation has the power to touch hearts, uplift spirits, and create lasting memories.
In addition to their commitment to extraordinary floral design, Locker's Florist & Flower Delivery is devoted to sustainability and eco-conscious practices. They source their flowers responsibly, ensuring that each bloom meets the highest quality standards while supporting ethical farming and reducing their environmental impact. By choosing Locker's Florist & Flower Delivery, clients can be confident that their floral arrangements are not only visually stunning but also aligned with their values of environmental stewardship.
About Locker's Florist & Flower Delivery:
Clients can place their trust in Locker's Florist & Flower Delivery to deliver beauty that will create a lasting impression. The dedicated team goes above and beyond to ensure the timely and safe delivery of every floral creation. They understand the anticipation and excitement that accompanies each order, and their commitment to exceptional service extends from the moment the order is placed to the moment the recipient receives the meticulously crafted arrangement.
For more information or to place an order, visit their website at www.lockersflorist.com or call (414) 276-7673. Allow Locker's Florist & Flower Delivery to curate a floral masterpiece that captures the essence of their client's emotions and creates cherished memories to be treasured.
###
For more information about Locker's Florist & Flower Delivery, contact the company here:

Locker's Florist & Flower Delivery
kim@lockersflorist.com
(414) 276-7673
https://www.lockersflorist.com/
Locker's Florist and Flower Delivery
1640 South 83rd Street
Milwaukee, Wisconsin 53214