North Shore Beach ATV Tours Lead To Fun And Adventure In Hawaii
Waialua, HI based North Shore Stables (NSS) is pleased to announce that they offer Beach ATV Tours. Those interested in having a truly unique adventure may contact the company today to take part in Oahu's only beachfront ATV tour.
Hawaii is renowned for its beautiful, awe-inspiring scenery and culture, and people from all over the world aspire to visit its islands and mingle with its welcoming people. The state's ocean coastline is notable for the fact that it is the fourth longest in the US, and North Shore Stables takes advantage of this fact at every opportunity possible — to the express delight of their guests. As their name suggests, the company maintains a series of stables which house horses that are incredibly friendly with people.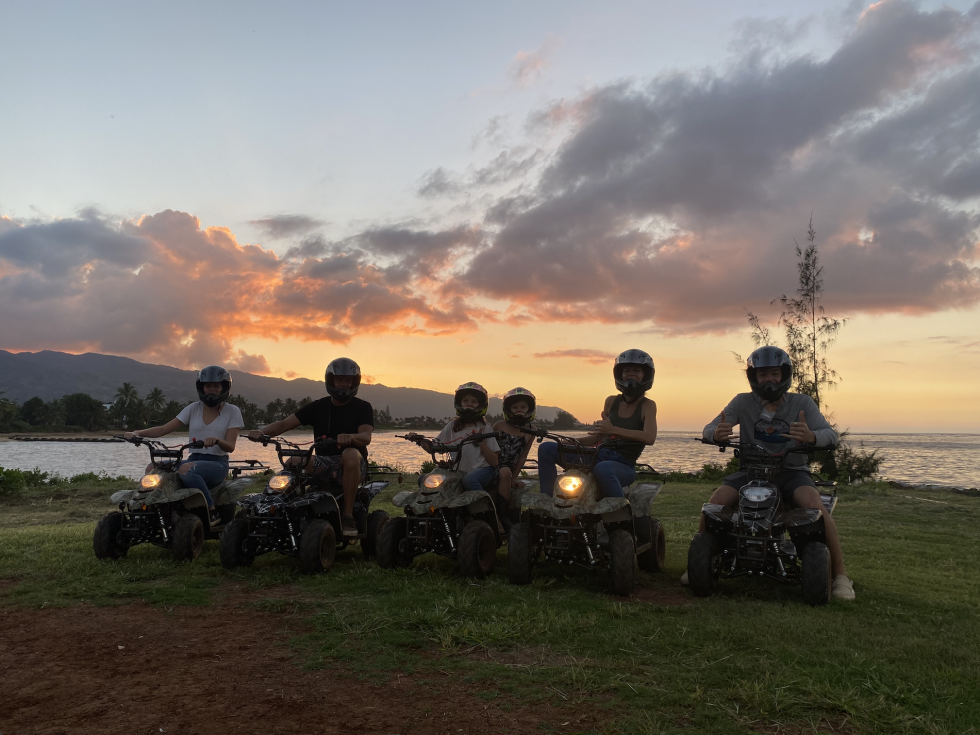 However, relatively few are aware that the company also maintains a fleet of ATVs that are capable of exploring the beach in immediate reach of the stables. Overlooking the ocean, the sunrises and sunsets here are among the most beautiful in the world, and guests are welcome to take an ATV out to ride under the sunshine and billowing clouds. The beach is also an excellent location to explore during the bright light of day — as much due to the spellbinding scenery as the joy of navigating the relatively forgiving terrain on such a powerful vehicle.
In addition to the beach, North Shore Stables says that guests may make their way through working farmland and take in the captivating Waialua countryside at their leisure. Rides are offered almost throughout the week (excluding Mondays), and are upto 45 minutes long per session. Over the course of a ride, NSS' guides will teach guests about local legends and give them tips on where to find the most spectacular views, including that of Mount Ka'ala, Oahu's tallest peak.
Guests are advised to bring appropriate clothing for their ride since the trails are known to vary between dusty and muddy, depending on the weather. A change of clothes is also recommended for the same reason. North Shore Stables provides all the safety equipment they are likely to need, including helmets and eye protection. Helmets are to be worn throughout the ride, and guests are also required to wear closed shoes at all times. Each ATV is maintained by the company's experienced mechanics, so guests can always expect a responsive and enjoyable time on the track.
Some of the other safety precautions include limiting large ATV drivers to those who are at least 16 years of age, limiting small ATV drivers to those 10 years of age and only allowing passengers who are 8 years of age or older. Only one passenger is allowed per driver (on large ATVs).
Tulia I. has a lot to say about the company, having had an opportunity to see both their horseback riding and ATV programs in action. Their 5-Star Google review enthusiastically says, "Hawaii is calling! The beautiful scenery and location on the north shore of Oahu was a treat from the hustle and bustle of town. The hour drive from Waikiki was easily navigated along the Waianae mountain range, and Mount Ka'ala as the dramatic backdrop! The team at NSS is amazing and passionate about their community! Expect a warm greeting from the crew and livestock. Take a ride on their horses or ATV. This is family and kid friendly!"
The review advises future visitors to, "Take a hat, wear shoes and check in early! Plan to get dirty, dusty and have so much fun! These guys want you to have the best experience, so don't be late, and plan for traffic or potential road closures! Go respectfully and be ready to learn and be a part of a bigger community! We took a dip in the ocean after our tour and ended the day with a margarita and fresh poke! Mahalo, Hawaii and North Shore Stables for helping us to create experiences and life long memories!"
The team at North Shore Stables looks forward to welcoming new and returning adventurers alike. Those who plan to be in the area in the near future are welcome to book their next ATV ride on the beach by visiting the company's official website, which also offers a convenient way to check availability (in real-time). Find it here: https://northshorestables.com/atv-rides/.
###
For more information about North Shore Stables, contact the company here:

North Shore Stables
Adam Lee
808-270-5032
contact@northshorestables.com
67-221 Waialua Beach Rd.
Waialua, HI 96791