One And Done Dumpster Rentals Is Offering A Convenient Online Dumpster Rental Service In Axtell, Texas
One and Done Dumpster Rentals, a waste management service from Axtell, Texas, is offering an online dumpster booking service to the residents and commercial contractors of McLennan County. Readers can find out more about its services by heading over to its website at https://www.oneanddonedumpsters.com/.
One and Done Dumpster Rentals is a locally owned and operated company that offers three dumpster options for its customers. The company's 20-yard dumpster is 20 feet long, 8 feet wide, and 4.5 feet high, its 25-yard dumpster is 20 feet long, 8 feet wide, and 5.5 feet high, and its 30-yard dumpster is 20 feet long, 8 feet wide, and 6 feet high. The 20-yard dumpster, 25-yard dumpster, and 30-yard dumpster can be rented out for a maximum of 7 days for $390, $450, and $500 respectively. All the dumpsters include 2 tons of waste in the base price. The company charges $20 per additional day of rental and $65 per additional ton of waste.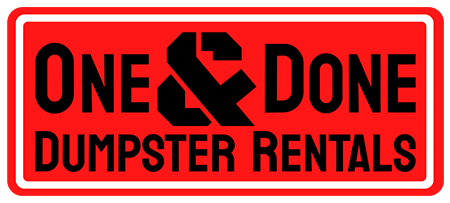 The company serves Abbott, Aquilla, Axtell, Coolidge, Dawson, Elm Mott, Hewitt, Hubbard, Leroy, Lorena, Malone, Mart, Mount Calm, Otto, Penelope, Prairie Hill, Purdon, Riesel, Ross, Waco, West, Woodway, and all areas in between. It can also deliver its dumpster rentals to areas beyond its service radius for a small fee.
The company's dumpsters can be used to haul off a wide range of waste such as refrigerators, construction waste, televisions, garbage, yard waste, furniture, mattresses, trash, e-waste, foreclosure cleanout waste, appliances, hot tubs, and more. If customers have any specific questions about the kind of waste that they can dispose of in the dumpster rentals, the company's courteous office staff is always available and willing to help answer them.
One and Done Dumpster Rentals' services are highly regarded by the Axtell community. It has garnered an impressive 5.0 out of 5.0 rating on its Google My Business page from 16 satisfied customer reviews. The reviews, which can be read by heading over to https://goo.gl/maps/KZite1JpsR4Aya1y6, praise the company's professionalism, punctuality, quality, responsiveness, and the value for money of its offerings.
A spokesperson for One And Done Dumpster Rentals talks about what makes them tick by saying, "The company's name, One and Done, is representative of how hassle-free we want our customers' experiences to be. If you are working on a home improvement project or cleaning out a commercial establishment, you can't afford to arrange for several pick-up trucks to make multiple trips to the local dump to dispose of your trash. Apart from the logistics of coordinating multiple vehicles, the cost of renting them can also quickly get out of hand. What you need is a seamless service that handles all of that for you. When you book a dumpster with us online, we show up at your doorstep at the predetermined time on the set date. We wait for you to complete your task and fill up the dumpster. When you are finished or the dumpster is full, give us a call and we will haul it off. Thanks to our services, if you are a professional company that contracts out your skills and frequently needs to arrange a dumpster for waste disposal, you don't need to buy a dumpster just to add to your fleet or even hire a driver to transport it. Our trained and experienced delivery crew takes care of that for you. You can just call us every time that you need a dumpster and we will deliver our impeccable waste disposal equipment to your client's site, on schedule. Moreover, we can also make special accommodations for or give discounts to contractors or construction companies based on the volume of business they offer us. So, if you are looking for the best dumpster rental service in and near McLennan County, Texas, give One and Done Dumpster Rentals a call. You can also follow us on Facebook at https://www.facebook.com/oneanddonedumpsters to get updates on our services."
One and Done Dumpster Rentals can be contacted at (254) 749-2423 or oneanddonedumpsters@gmail.com.
###
For more information about One and Done Dumpster Rentals , contact the company here:

One and Done Dumpster Rentals
(254) 749-2423
oneanddonedumpsters@gmail.com
4803 E Old Axtell Rd
Axtell, TX 76624