Power Dumpster Offers Dumpster Rental Service in Crowley, Louisiana
Power Dumpster, a company based in Crowley, LA, is offering dumpster rental services in Crowley and neighboring areas. It offers various sizes of roll-off dumpsters, including 20-yard, 25-yard, 30-yard, and 40-yard. Its service area includes Crowley, Branch, Church Point, Duson, Egan, Estherwood, Eunice, Iota, Mermentau, Morse, Swords, Taterville, Veazie, Veltin, Waxia, Whiteville, Woodside, Broussard, Carencro, Duson, Lafayette, Milton, Ossun, Scott, Youngsville, and all areas in between. Those whose location is beyond that radius are invited to contact the company to see if delivery arrangements can be made. More about the company can be gleaned from visiting its official website at https://www.powerdumpster.com/.
Power Dumpster is a locally owned and operated dumpster rental company that provides same-day dumpster rental for residential and commercial construction clean-ups and easy-to-use online booking. The business is focused on providing cost-effective waste management solutions to customers, no matter the scale or scope of their specific waste removal needs.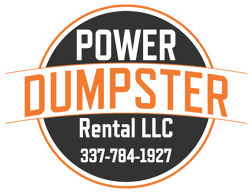 The 20-yard dumpster measures 23 feet in length, 7 feet 7 inches in width, and 4 feet 5 inches in height and can contain an equivalent of eight pickup truck loads. This dumpster size is typically used for home remodeling and construction projects, including renovation of a master bedroom, kitchen remodeling, yard cleanups, basement cleanouts, attic cleanouts, garage cleanouts, and other similar projects.
The 25-yard dumpster can hold an equivalent of 10 pickup truckloads and is often used for renovation projects where a large amount of debris is expected. It can be used for garage and shed demolitions, carpet or flooring removal, remodeling of full bathrooms and countertops, removal of several walls, kitchen floors or living room floors, roofing repairs, kitchen or bathroom demolitions, shed cleanouts, and more.
The 30-yard dumpster measures 23 feet in length, 7 feet 7 inches in width, and 6 feet in height and can hold an equivalent of 12 pickup truck loads. This is frequently used for major residential and commercial construction projects. They are typically used for new home construction, major home additions, home siding projects, and complete garage demolitions.
The 40-yard dumpster measures 23 feet in length, 7 feet 7 inches in width, and 8 feet in height, and can contain an equivalent of 16 pickup truck loads. It can be used to haul away junk and trash from different types of projects, such as commercial demolition projects, full home remodels, office building cleanouts, and major decluttering jobs.
Customers have been providing highly positive reviews for the services received from Power Dumpster. On Google, the company has an overall rating of 5.0 out of 5 stars. In one recent review, Celeste L. gave them five stars and said, "I've followed this company since Laura and Delta hit and rummaged a bunch of properties through Louisiana. This has been my go to company ever since for any demolition or construction job. The employees and owner are very punctual, helpful, knowledgeable, communicative, and haven't let me down yet." In another recent review, Mario G. also gave Power Dumpster a five-star rating and said, "My experience with Power Dumpster was a great one. Their staff was courteous, attentive and informative. I would highly recommend them for any and all dumpster needs." Meanwhile, Saundra H. also gave the company five stars and said, "Fantastic customer service! I was doing a move out and this was the only place that answered my call and was able to get my dumpster to me on the same day. I will 100% be referring my customers here. I always prefer to support local companies."
Those who are interested in learning more about dumpster rental services from Power Dumpster can check out its website or contact the staff via phone or email. The company is open from 6:00 am to 6:00 pm, from Monday to Friday; and from 6:00 am to 3:00 pm on Saturdays. Those who would like to know more about the company's location and other relevant information can view its Google Maps page at https://goo.gl/maps/NTnE6MZebAVuc8VB6.
###
For more information about Power Dumpster, contact the company here:

Power Dumpster
Jerry Wales
3377841927
contact@powerdumpster.com
108 Roller Rd, Crowley LA 70526