Soft Wash Chemicals Available At Reduced Rate
Southeast Softwash LLC, based in Roanoke, AL, is pleased to offer their soft wash chemicals for sale at a reduced rate. The business has a long history in the exterior cleaning sector and provides a variety of solutions that facilitate this process.
Southeast Softwash is offering a discounted Soft Wash surfactant variety pack for all interested parties. One of the best-selling product lines for the company, the pack now features a New and Improved Softwashing Surfactant Formula. A variety pack, including 2 gallons of 'Southern Drawl' and 2 gallons of 'Southern Slang,' is available from the company. These can be used for all softwash tasks, including roof cleaning, house washing, concrete treating and so on. The product is a concentrate that dissolves in a ratio of 15 gallons of water to a one-gallon jug. As a pressure washing surfactant, the Southeast Softwash House Washing and Roof Cleaning Solution formula works really well. The four gentle wash surfactants are offered in a convenient pack.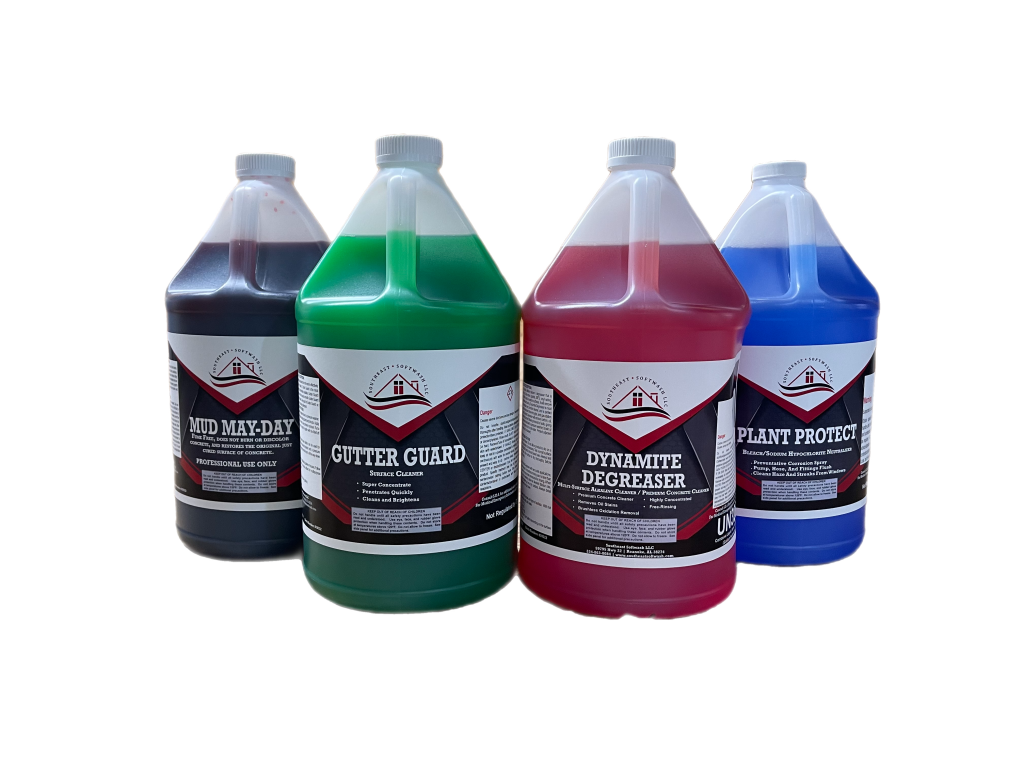 Southeast Softwash also sells the AlumiMAX Pro Skid System. Even the most challenging jobs can be completed by this soft wash system, which combines two independent softwash systems with a powerful 5.5 GPM Honda pressure washer. This tool may operate in the field for days on end and generate revenue for a company. A technician can pressure wash for up to 15 minutes without access to water with a tank-fed pressure washer. Due to the existence of two separate softwash systems, it is possible to supervise a team of up to three experts and clean numerous surfaces simultaneously. The welded, thick-gauge aluminum frame resists corrosion and lightens the load on the truck. Since it is completely forklift capable, the skid can always be taken off.
The measurements are 74L, 77W with shelves, and 44W at the base. It has a 100-gallon water capacity, a 100-gallon SH capacity and a 16-gallon surfactant capacity, and it can be mounted on the majority of full-size trucks. The water tank includes a Hudson shutoff valve, two 5.5 GPM Everflo pumps, two chemical metering manifolds, two softwash wands, two deep cycle marine-grade batteries, a battery charging system, a hose reel with 200 feet of pressure wash hose and a Bandit 3000 PSI 5.5 GPM GX390 Honda engine pressure washer. It is ideal for any company as a soft wash setup. Skid purchases also come with one free Softwash 101 training class on the day of pickup (for up to two people).
The company also offers the Southeast Softwash Trailer Build for sale at a discounted rate. The Softwash System comes with two independent systems that pull from a 100-gallon SH tank, 200-gallon water tank and a 30-gallon soap tank. It also has custom blend manifolds on each system. The system comes with all stainless hose reels, a 200 ft soft wash hose on each system, 5.5GPM 12v pumps, custom softwash wands and a 20-amp dual battery charger. This pressure washer trailer setup is ideal for use by a company running their own pressure washing business.
The father of the current owner, Lane Yarbrough, founded the business in 1987. While working in the Atlanta area for several large roofing companies, he began investigating why the asphalt shingles produced in the factory would begin to show unattractive black streaks after a few years. In order to clean these roofs to his satisfaction, he began experimenting, and in 1988 their home had the first successful roof cleaning. Fortunately, a chemist who was working on this problem and was employed by the plant, gave Lane some advice on the best chemicals to begin testing with. The company has since performed tens of thousands of wash services and refined the processes.
As expert exterior cleaners, the company will service customers and securely and effectively restore their premises. This makes it possible for the company to run a very rewarding and prosperous softwashing operation. Southeast Softwash's team started an equipment manufacturing section in 2018, and the company has since grown to become the biggest turn-key equipment provider worldwide.
Along with the vast experience that comes from a long history in exterior washing, the Southeast Softwash team is excited to be leading the industry into the future. Those interested may visit the company website or get in touch with their representatives by phone or email to find out more about the services they provide.
###
For more information about Southeast Softwash LLC, contact the company here:

Southeast Softwash LLC
Chesca Rev
334-863-0084
admin@contractorads.net
Southeast Softwash LLC
59795 Hwy 22
Roanoke, AL 36274